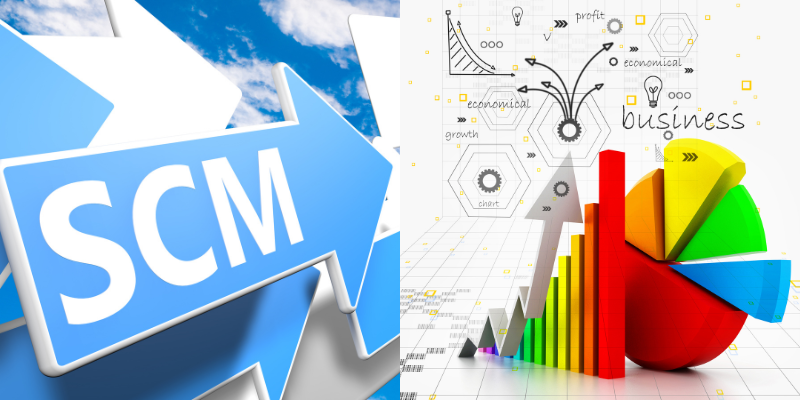 SCM- Supply chain management is the process of overseeing and managing how goods and services evolve. It involves the process from the beginning, when the product is in its raw material stage, to the finished consumer product. It includes the overall process of moving and storing the materials to produce finished goods till they are sold and tracking where they are delivered.
Some of the essential steps involved in establishing a reliable supply chain management involve-
Designing and carrying the supply chain.
Carrying out the plans carefully.
Monitoring performance of each aspect of the supply chain.
Communicating regularly with various stakeholders and supply chain partners to ensure their involvement in the plan.
The objective of supply chain management is to seek to streamline every aspect of the supply chain and processes involved. By doing this, the profits get maximized, and the overall defects are minimized.
It works by coordinating the procurement, suppliers, retailers, manufacturing facilities, distributors, and customers as they move together in the production, sales, and buying processes. It requires active management because it is affected by several factors outside the control of the business. It means managing costs at every step and delivering the goods to the consumers as early as possible.
Benefits of Supply Chain Management
Supply chain management helps businesses gain a competitive advantage by delivering products quickly to customers. Here are a few benefits-
SCM lowers the cost of doing the overall business. It is accomplished by reducing purchasing and production expenses. 
Helps build a partnership that supports the future growth

Helps balance the supply of the products as per the demand in the market.
Allows efficient management of the processes.
Delivers effective customer services.
The ultimate objective of effective supply chain management is to maintain higher profits through improved customer satisfaction and by lowering the overall cost of executing the business. Profits increase when the cost is controlled and should be reduced whenever possible.
We hope you would have understood the benefits supply chain management processes offer to business firms. It is essential to have an effective supply chain in place for businesses to grow and excel. If you are looking for a supply chain management process in Germany, then get in touch with SCPLAN consulting. The team can effectively guide and support you in managing the processes and dealing with challenges with ease.